Whether you're a fashionista or just looking for ways to express yourself without baring too much skin, there are plenty of ways to look and feel sexy without showing too much. Here are a few tips on how you can achieve that perfect look without compromising your style:
Find the right fit
When it comes to fashion, sometimes less is more. Showing too much skin can be a turn-off and leave little to the imagination. Finding the right fit is one of the best ways to be sexy without revealing misgiving amounts of skin. Taking one's measurements and consulting the size chart can help find clothes that show off confidence without going too far – flattering all unique body shapes.
Comfort and confidence should always be the goal with any outfit, as clothing can have enormous powers over self-image and feeling. Don't forget that you are beautiful in whatever you choose, because even the most stylish clothes will not make an impact if they don't fit well or feel comfortable.
Accessorize
Another way to achieve a head-turning style without baring it all is to accessorize! It's all about the details. Consider choosing bold jewelry pieces or incorporating unique hats or scarves that bring an edgy or classic touch.
Accessories are a great way of upgrading an outfit. By adding unusual elements, such as geometric earrings or a statement bag, you can quickly go from casual to glam in just a few updates. Moreover, accessorizing helps define your personal fashion statement—it's easy to be effortlessly cool with the right pieces.
Wear layers
Wearing layers is an easy and classic way to amp up your style. Whether you're looking for something casual, professional, or dressy, layers are the perfect way to highlight what makes you feel sexy – without showing too much skin. Putting together different textures and tones of clothing can make a big difference in how your look comes together, especially if you've got accessories to pair it with.
Experimentation is vital when determining what looks best for your individual style. Try pairing a cami with two sheer shirts and a leather jacket for an interesting contrast! Or layer multiple pieces of jewelry that vary in size and shape as well as color to give any outfit extra sparkle! Styling layers also help define which body parts you choose to accentuate.
Choose your colors wisely
Choosing colors for your outfit can make all the difference in feeling sexy without showing too much skin. Opt for hues that flatter and highlight your warm colors, like classic hues of green, blue, red, yellow, and pink, rather than sultry colors, such as bright blues, greens, purples, and neons.
Deep shades of these colors are especially inviting in exuding an air of sexy confidence while showing less skin. Selecting a few primary colors and pairing them with neutral colors like whites and blacks can also keep things tasteful yet enticingly provocative just by playing off the darker side of your outfit's tones.
Invest in quality pieces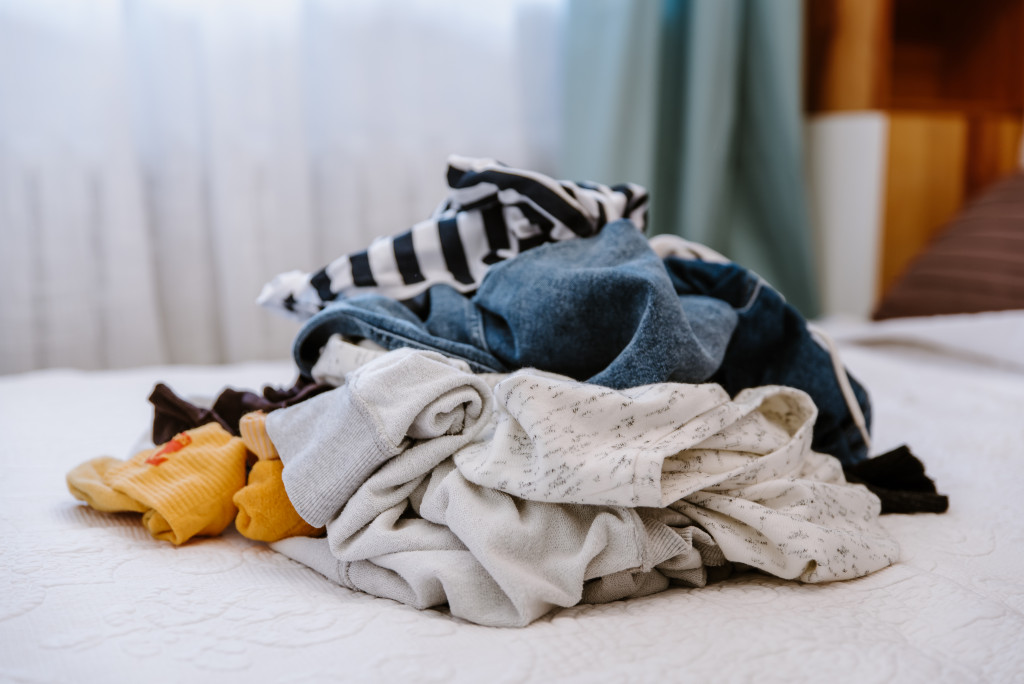 Investing in quality pieces, as opposed to skimping on price points, is the best way to look sexy without overexposing yourself. Unlike cheaper options, quality pieces usually fit better and last longer, meaning they will flatter your body shape in the best possible way while also lasting throughout multiple seasons.
And for the modest but sexy look that you're going for, you can find quality pieces by looking up collections from modest clothing brands online. You'll find plenty of stylish cuts, patterns, and textures to choose from that will help you feel confident and comfortable in your own skin! With these pieces in your wardrobe, you can look and feel sexy without showing off too much of yourself.
Be confident
Above all else, the most essential thing that can make you feel sexy without revealing too much skin is confidence. Remember that your skin may be covered, but your body gives off a certain aura and energy that will always draw attention – so own it!
Make eye contact with others, stand tall and proud, and smile often – these are easy ways to exude confidence, which will make you feel sexy without having to bare it all. With these tips in mind, you can quickly look and feel sexy even if you're not showing off your skin!
With these tips, you'll be able to have all eyes on you without having to show too much skin! Remember that when it comes down to looking and feeling sexy, there are no hard rules—just pick items that flatter your body type and exude confidence in everything you do! Have fun playing around with different styles until you find the one that works best for you!