Almost everything has gone remote these days, and dentistry is no exception. Making time for routine dental checkups has become difficult since the COVID-19 pandemic is still going on. But thanks to telehealth, dental care has become accessible despite the ongoing health crisis. With the shift towards virtual care, technological innovations in healthcare are gradually changing dentistry.
While it's true that dentistry is a hands-on specialty, dentists are still offering emergency dental services for urgent dental problems that cannot wait. These include severe pain, signs of infection, and chipped or lost tooth. Otherwise, patients can consult with their dentists through digital communication rather than face to face.
The pandemic crisis is changing the world of healthcare and a dental appointment is no longer required to receive treatment for different dental issues. While teledentistry is a new buzzword in healthcare delivery, many are unaware of its existence and its procedures. That said, we'll discuss what teledentistry means, how it works, and its advantages.
What is teledentistry?
Teledentistry combines dentistry and digital communications, which involves the exchange of clinical images and information at a distance. According to the American Dental Association, teledentistry allows the patient to receive dental services while the dentist oversees the care delivery in another location.
Remote dentistry works well for patients who lack access to dental services or live far from a dental clinic. This form of care delivery works for non-urgent cases, but patients who need immediate access to medications can use it to ask for necessary prescriptions. Although physical consultation is still the best choice for treatment, teledentistry is a great alternative for those who are continuously traveling, sheltering in place, or worried about making a dental visit.
A virtual dental appointment also works for patients who cannot afford an actual dental consultation or those who are not equipped to handle dental emergencies. Teledentistry is much cheaper than paying for a physical consultation.
How teledentistry works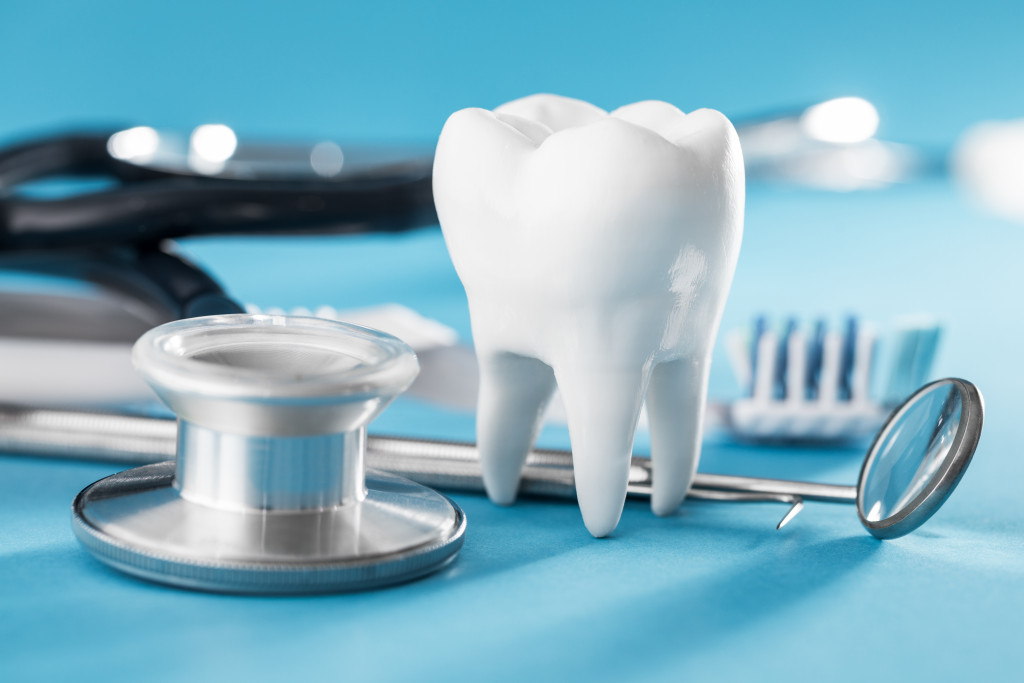 Although actual dental exams and procedures cannot be done virtually, a few services can such as dental consultations. Appointments conducted in a virtual setting can temporarily replace emergency consultations and improve dental health education and pre-op and post-op consultations. In other words, dentists can prescribe medications (e.g., antibiotics) required for pre- or post-surgery or emergencies until the patient is ready to see a dentist for a physical appointment.
There are two types of teledentistry. The first one is asynchronous, also referred to as self-instruction or "store and forward" care. This means a dental hygienist or assistant will go to the patient's location or meet them at the clinic when the dentist isn't available.
The assistant will then gather data and documents such as pictures, videos, X-rays, and diagnostic tests, which they will send to the dentist for later review. For this type of care, the dentist has the patient information before they can conduct a remote exam. These remote exams may appear similar to in-person consultations, but additional research is still necessary.
On the other hand, synchronous or "live video" is what most dentists are using for teledentistry. Patients save time and money by relying on real-time video chat software to meet their dentists. They can discuss their symptoms and submit photos and videos during the conference so the dentist can present their initial diagnosis. But since images cannot replace physical exams, dentists can only provide limited diagnoses and determine if the patient's case is nonurgent or emergency.
Patients who don't prefer visiting a dental clinic can utilize a variety of digital and electronic alternatives to receive the same level of dental service as they would in physical consultations. This form of telecommunication highlights the importance of digital outlets and electronic health records for performing diagnoses and consultations to patients in need.
Benefits of teledentistry
Teledentistry benefits both patients and dental practices. It allows dental professionals to deliver care to underserved communities who have limited access to quality oral care and target goals for reducing dental issues related to tooth loss, decay, and oral diseases. It also opens doors for patients who aren't always in a position to receive the dental care they need.
In turn, dentists can reach patients who can't travel or have irregular schedules. Offering services beyond the clinical environment will reduce the number of patients in the office, which eliminates the risk of COVID-19.
Teledentistry can never replace physical appointments, but it's a great alternative for patients with limited access to dental specialists. While the pandemic is still on hand, patients should utilize the benefits offered by teledentistry to stay safe at home. For dental practitioners, they may consider adding teledentistry into their services to provide more care options for their patients.