The wedding day is one of the defining moments of a person's life. It commemorates a new chapter of a couple's walk in life. However, little mishaps and inconveniences sometimes happen, and it's ideal to minimize any chances of them happening. It's understandable to want to make this day as smooth as possible while having a great time.
To be able to achieve all this, here are some tips and tricks that could set the bar for other weddings:
Unique Wedding Favors
The best wedding favors are those that can be used at home or those that can be eaten! Useful favors can be household items, like coasters, mugs, or mason jar candles. To make it a little unique and memorable, go for creatively curated handsoaps or cloth facemasks (very in with the times).
For a more fail-proof wedding favor, consider giving away treats! Go for fun and indulgent ones, like cupcakes or cookies from a local pastry shop, wrapped in cute packaging. However, keep edible favors dry as much as possible. Nobody likes having any honey or jam spilling in their handbags at the end of the night. All the more in their luggage for guests from out of town.
Dried Flowers as the Wedding Bouquet
A walk down the aisle is not complete without the bride's bouquet in her hands. Sadly, flowers have short lifespans and will never be as vibrant as they are at the moment. To keep the bouquet for as long as possible, consider having dried flowers instead. They're well-preserved and are a great keepsake of a bride's moment walking down the aisle. It's an eco-friendly option too, considering how many get married yearly and how much waste the average wedding produces.
A Unique Tablescape
Speaking of flowers, they are always a nice touch to a tablescape but they don't last very long. For the same reason, consider decorating with dried flowers. Unlike real flowers, they can be last for a long time and can be brought home after the reception. If the reception is held in a beautiful outdoor wedding venue, utilize dainty candles and lamps too so guests can be comfortable.
Other ways to wow guests with their tablescape is by replacing traditional centerpieces with beautifully arranged baskets of pastries or putting daintily-displayed herbs for guests to season with their food with (or take home after the night). Appetizers can be a big hit too! They're practical and they keep guests satisfied.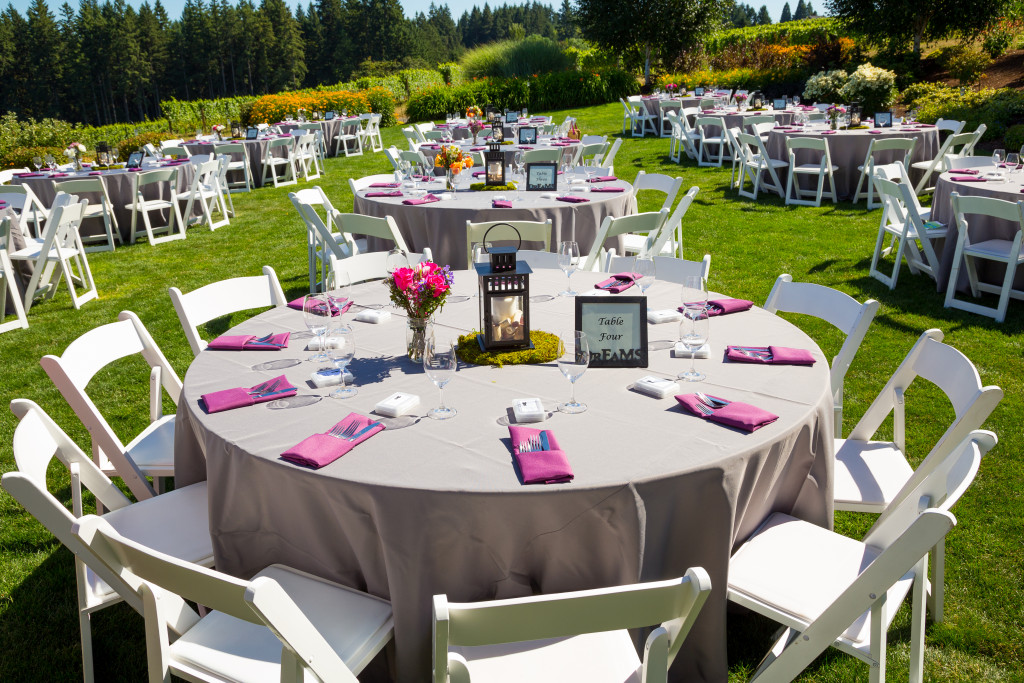 Multiple Seating Charts
To have a smooth transition from the ceremony area to the reception area, have seating charts available for the guests' reference. This can clear up any confusion and keep things flowing efficiently. Depending on the volume of guests, be sure to have more than one available. This can be especially helpful for those who forgot their seating assignments.
A Lounge Area
Some guests will be on the dance floor, but some will want a cozy, quieter area where they can chill and make casual conversations. Why not provide a space just for that? Having something as unique as a lounge area can make any wedding stand out. Surely, this will be a hit to guests and something they'll appreciate.
Have Food Available as Soon as Everyone Enters the Reception Hall
It's safe to say that after the wedding ceremony's over, guests have worked up an appetite. Instead of diving straight into the program, invite guests to the buffet as they enter the reception hall. The program can still start though while everybody chows. As soon as the guests have had their fill, everybody can have a proper good time and even join in on the activities.
Provide Illumination From the Reception Area to the Parking Lot
If the reception ends at night it's useful to have some illumination as guests make their way to their cars. Depending on the venue, ask if they have any lighting available for this purpose. But if not, have lanterns or string lights installed. They don't just add light, they add to the aesthetic too.
Add Your Own Edge
All these little things have the ability to make it a memorable and enjoyable experience for everybody but to take it a step further, add a little spice. Having a pinata, holding a treasure hunt, or water gun war is just a couple of examples of going about it. It doesn't have to be big and extravagant. Get creative and make it the best time.
It's every individual's goal to execute their wedding plans without a hitch. But to make the wedding memorable, unforgettable, and standing out from the rest is the ultimate goal.