The pandemic has shown us just how fast things can change. Our lives were turned upside down at the drop of a hat as lockdowns and safety protocols had people sheltering in place and businesses closing their doors. During our time spent indoors, many people have also gotten an opportunity to take a closer look at their professional and personal lives.
As work shifts to a hybrid or completely remote setup, it's taken on a new form in a world post-pandemic. The modern era provides the workforce with multiple avenues for growth and opens up doors to new careers entirely. Integrating technology into modern businesses has resulted in companies quickly changing and adapting to the ever-changing health and safety protocols.
During these times, where our general mobility is limited, it's also perfectly normal to feel stifled or stunted. As opportunities for advancement begin to diminish due to companies still adjusting to the new normal, employees are now actively looking for better opportunities outside of their current employers. What's now being called the great resignation is also affected by the lack of work-life balance in some company cultures.
Prioritizing the importance of the workforce's physical and mental health with healthy working hours and manageable workloads seems to be the benchmark for work in the new normal. What used to glorify the hustle and grind has significantly shifted to chasing a well-balanced lifestyle. Many opportunities have popped up that meet these criteria while also appealing to employees from various industries.
Short courses and workshops
Shifting career paths and advancement require you to further develop your skill set. Short courses and workshops have increasingly become popular online. Multiple platforms have popped up offering courses that help you develop different skills from coding to management. These courses not only help you understand the lay of the land better should you be entering an entirely new industry, but it also helps you achieve the necessary knowledge base needed for a possible promotion.
The educational system has also mobilized to meet the demand of the workforce, offering certificate courses that provide a more in-depth curriculum for employees. As we transition into the new normal, these courses have moved to be available online and, in some cases, face to face. The increased demand for medical professionals has also caused CNA programs and other professional certificate courses to become a popular career choice for those looking to enter the medical field.
Workforce management
Shifting the majority of the workforce to working from home brings up unique management challenges regardless of industry. In the early pandemic, most industries saw a decrease in productivity as employees struggled to adjust to working at home. However, as time goes on, we see that after the necessary training and systems were put into place, productivity in the information technology, marketing, and advertising fields has increased despite these hurdles.
The initial learning curve was navigated with the help of management professionals targeting to bridge the gap of a disassembled workforce. While a wide array of software programs can help corporations track employee productivity and efficiency, management still plays a major role in employee satisfaction.
Major tech companies have started implementing changes to their organizational structures to make room for remote management professionals who specialize in better corporate communications, scheduling, and workload allocation.
Another aspect of the workforce that needed to be considered was the integration of technology and automation. Navigating that intersection of human and robotic or AI elements proved tricky for even the more prominent international corporations.
Digital Marketing and Advertising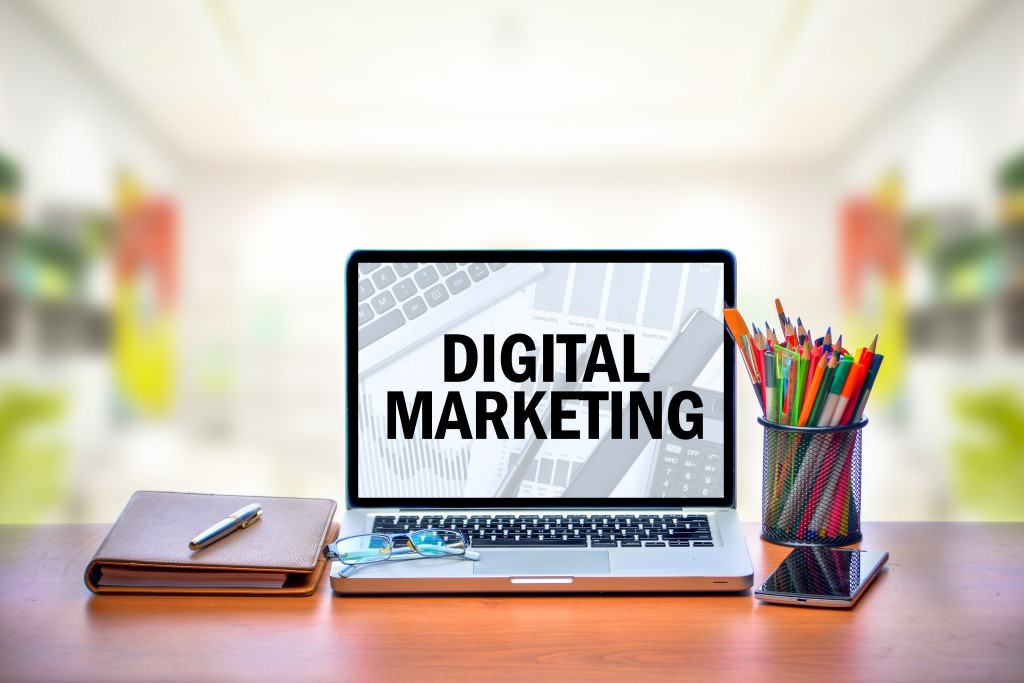 It's no surprise that once people were stuck in their homes, almost everyone started using their tech devices more. Whether it was their smartphones, tablets, smart TVs, laptops, or personal computers, everyone was in front of a screen. Due to the increase of eyes on online platforms, brands started looking into marketing and advertising plans tailored to the digital consumer.
Brand communication for traditional media versus digitally, while not all that different in terms of selling point, delivery was undoubtedly different. Digitally savvy professionals became highly sought after in these fields. Agencies started looking for a younger generation of employees who understood the algorithms of various platforms and could comprehend their analytics with the help of social listening tools.
Businesses continue to show their resilience despite these difficult times by crafting innovative ideas to serve their consumers. Because of this resilience, the workforce also continues to adapt and move towards industries seemingly ahead of the curve.