So, you want to take up shooting as a hobby. Whether you're interested in long-range marksmanship, plinking cans in the backyard, or getting started in practical shooting sports, there's a lot to learn. This blog post will cover some basics of what you need to know to get started.
Firearms Safety
The first and most important thing to understand is firearms safety. Safe handling of firearms is absolutely crucial, both for your safety and the safety of those around you. Before handling a firearm, review the basics of safety: always keep the muzzle pointed in a safe direction, only put your finger on the trigger when you're ready to shoot, and be aware of your target and what's surrounding it.
In addition, it's essential to understand the laws in your area. Make sure you're aware of any local, state, or federal laws that apply to the type of firearms you'll be using and where you'll be shooting.
Proper Storage
The next step is proper and secure storage for your firearms. You'll need to purchase a spacious pistol display cabinet to keep your firearms safe from unauthorized access and accidental discharge. If possible, install the display cabinet in an area that can be locked with a padlock or other locking device.
Additionally, if you plan on traveling with your guns, you'll need to ensure your firearms are properly stored and transported according to state and federal law. Always check your state's regulations for the proper storage and transport of weapons.
Eye and Ear Protection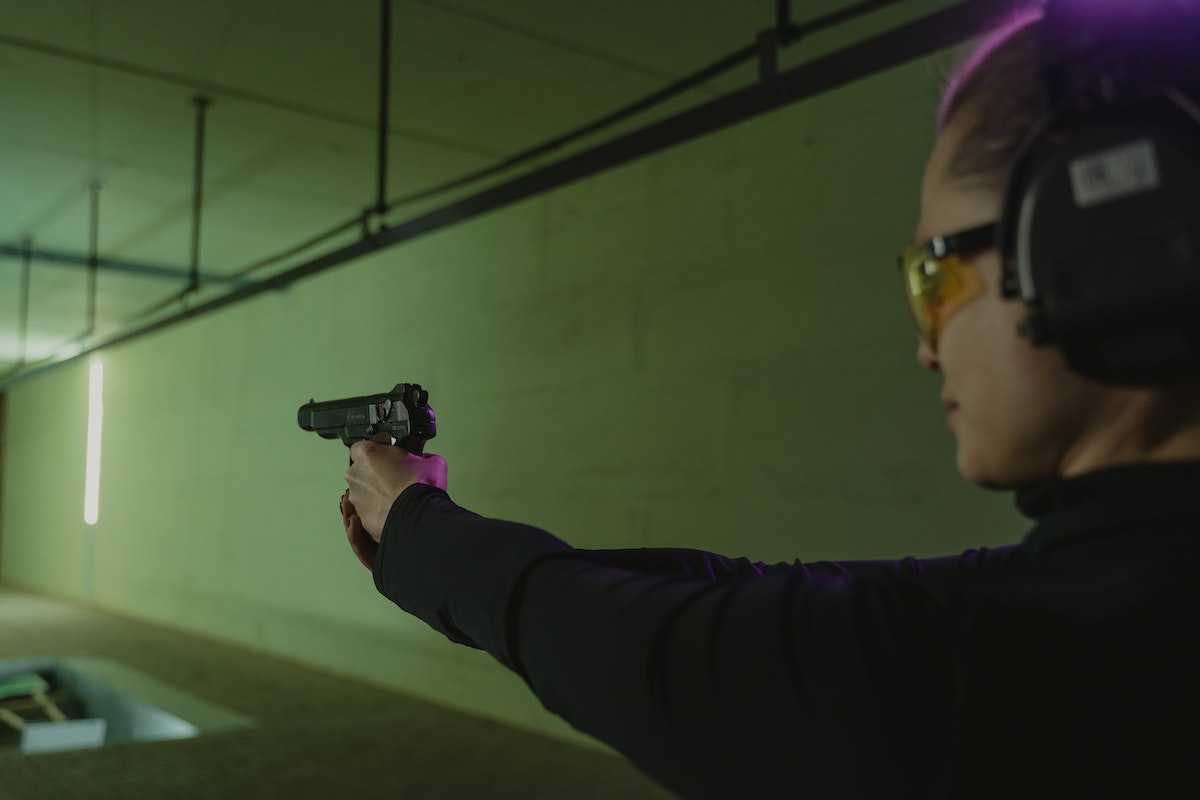 When shooting, you'll also need to invest in the eye and ear protection. Eye protection is essential to protect your eyes from flying debris. In contrast, ear protection will stop permanent damage from loud noises. Ensure your eye and ear protection fit correctly and that you can hear and see clearly when wearing them. It's also essential to make sure your eye and ear protection is rated for the type of firearms you'll be shooting.
Types of Firearms
There are three basic types of firearms: handguns, rifles, and shotguns. Handguns are small enough to be carried and used with one hand, while rifles and shotguns are larger and meant to be fired from the shoulder. The type of firearm you choose will depend on your intended use. For example, if you're interested in practical shooting sports like IDPA or USPSA, you'll likely want to start with a handgun. On the other hand, if you're interested in long-range marksmanship or hunting, you may want to start with a rifle.
Ammunition
Next, you'll need to understand ammunition. Ammunition makes a firearm function; it's the projectile propelled out of the firearm when the trigger is pulled. Ammunition comes in many different calibers or gauges, which refers to the diameter of the bullet or shotgun shell. The most popular calibers for handguns are 9mm and .45 ACP; for rifles, .223 Remington and .308 Winchester; for shotguns, 12 gauge and 20 gauge.
You'll also need to decide whether you want to use lead or jacketed bullets. Lead bullets are less expensive and typically used for range training. In contrast, jacketed bullets are more expensive but offer better penetration and expansion capabilities—which means they're often used for self-defense or hunting purposes.
Where to Shoot
Once you have a firmer understanding of firearms safety and have chosen the type of firearm and ammunition you want to use, it's time to find a place to shoot! If you live in a rural area, there are likely plenty of places where you can set up a target and shoot on your own property; however, if you live in an urban area, finding a place to shoot can be more challenging. The best bet is to find a local gun range where you can rent firearms and purchase ammunition. Once you have access to a gun range, you can practice shooting at various distances until you find a comfortable distance.
Most gun ranges will have targets set up at 7 yards (21 feet), 10 yards (30 feet), 15 yards (45 feet), 25 yards (75 feet), and 50 yards (150 feet). Additionally, some gun ranges have 100-yard targets as well—but don't worry about those just yet! Practicing at various distances will help you determine what distance is comfortable for you so that when it comes time actually to hunt and defend yourself, you'll know exactly what yardage range you're capable of accurately shooting.
Final thoughts
A hobby in target shooting can be both rewarding and challenging. Make sure you understand firearms safety before getting started, choose the right type of firearm and ammunition for your intended use, and find a local gun range to practice at. With some dedication and hard work, you'll soon become an expert marksman!