Most people enjoy spending time outdoors in their backyard. It's where they can escape the hustle and bustle of their busy lives. It is why most outdoor home designs contain comfortable elements. The advantages of having a backyard paradise are many. It provides a place to relax and enjoy the outdoors without having to leave home.
However, not everyone's backyard is a tropical paradise. If this is the case for you, then don't despair. There are ways to create a backyard paradise, even if you live in a colder climate. It might take a lot of effort and resources to make it happen, but the results will be worth it in the end.
Here are a few tips to ensure that your backyard paradise is everything you want.
Outdoor Furniture
One of the most important things you need to create a backyard paradise is comfortable outdoor furniture. It will allow you to relax in your space and enjoy all it offers. There are many different types of outdoor furniture available, so you can find something that suits your needs and style.
Outdoor hanging single swing chairs are a great option to enjoy the outdoors without sitting on the ground. You can also find comfortable sofas and chairs perfect for lounging in your paradise.
In addition to furniture, you will need other elements to complete your backyard paradise.
When choosing outdoor furniture, consider the climate where you live. If you live in colder weather, you'll need weatherproof furniture that can withstand freezing temperatures. You'll need furniture designed for hot weather if you live in a warmer climate.
No matter where you live, it's essential to choose furniture that is comfortable and stylish. Outdoor furniture can be expensive, but it's worth the investment to create a backyard paradise.
Relaxing Amenities
To make your paradise even more relaxing, installing amenities that can help you unwind is essential.
Some of the most popular relaxation amenities are a hot tub or pool. A hot tub can provide soothing warmth on a cold night, while a pool can cool you down on a hot day. Both are perfect for relaxing after a long day.
Other options are available if you don't have a hot tub or pool space. A hammock is a great way to relax in your backyard and doesn't require any extra space. You can also install a fire pit to keep you warm on chilly nights.
However, it will be necessary to seek contractor services to install the relaxing outdoor amenities you want for the backyard. Doing it yourself could lead to accidents, so it is best to leave it to the professionals.
No matter what relaxation amenities you choose, be sure they are ones that you will use often. The more often you use them, the more relaxed you feel in your backyard paradise.
Privacy
When you're trying to relax, the last thing you want is to be disturbed by your neighbors. To create a backyard paradise, you need privacy.
One way to achieve privacy is by planting trees and shrubs around the perimeter of your yard. Another option is to install a fence or privacy screen. The fence can contribute to the overall aesthetics, especially if you choose an attractive design.
Both options will take time to grow and provide privacy, so be patient. In the meantime, you can use temporary privacy screens or curtains to give you the necessary privacy.
Privacy is essential when trying to create a backyard paradise. It will allow you to relax without worrying about being disturbed by your neighbors.
Lighting
The proper lighting can make all the difference in your backyard paradise. To create a relaxing atmosphere, install soft lighting you can control with a dimmer switch. You might also want to install fairy or string lights for a magical touch.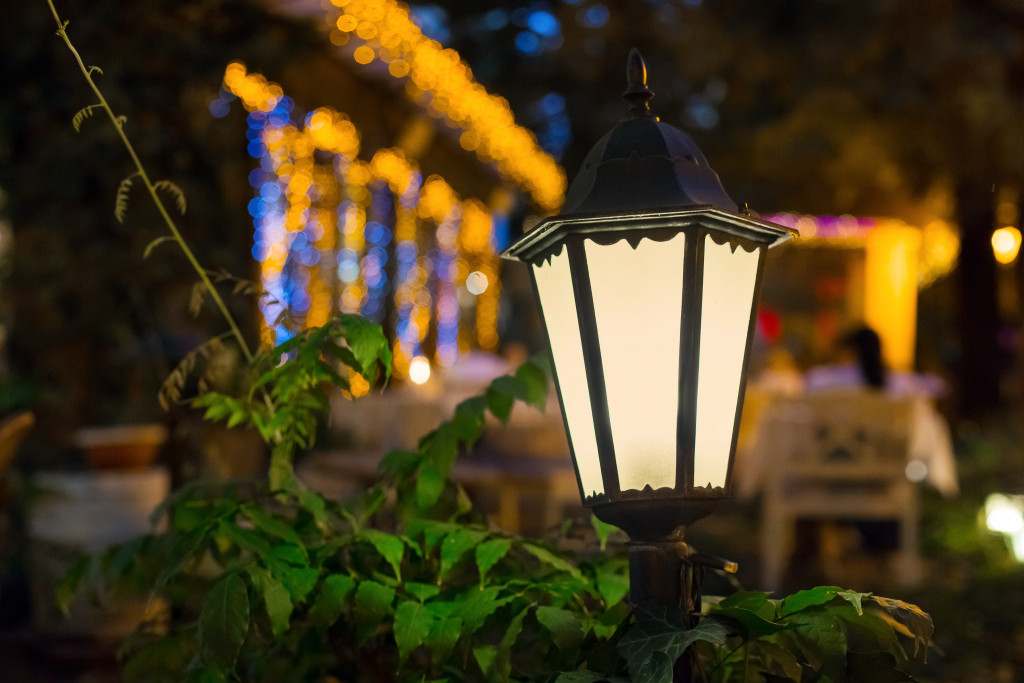 In addition to ambient lighting, you'll need task lighting for activities like cooking and reading. Install LED lights under your outdoor kitchen countertops and near your reading chair.
Be sure to install safe and durable lights in wet or humid conditions. Waterproof lights are essential for areas near pools, hot tubs, and water features. You can enjoy your backyard paradise day and night with the proper lighting.
Lighting can set up the environment of a backyard paradise, but only if it isn't bright. Try to look at lighting designs on beaches or other tropical places and use that to set up the lighting in your backyard paradise.
Conclusion
Creating a backyard paradise is a great way to enjoy the outdoors without leaving home. To make your paradise, start by choosing the right furniture and relaxing amenities. Then, add privacy with trees, shrubs, or a fence. Finally, install appropriate lighting to set the mood. With these tips, you can transform your backyard into a tropical oasis.