With science, technology, and many aspects, it's easy to see we gravitate toward innovation—forward. But this might not always be the case for fashion, such as home interior, clothing sense, or body accessories. In these areas, we tend to look back nostalgically, wonder why they even got out of style, and strive to revive those old beauties.
No matter how far we have moved forward, it's not hard to appreciate the old aesthetics. As we give them a chance for a comeback, we infuse them with the new. This is very evident in clothing fashion. Here are some entirely new, classics that were revived, or a mix of the two that have risen as trends this 2021:
Black face masks
There are printed and embellished face masks, but what stands out effortlessly and at all times are black facemasks. COVID-19 made self-protection a non-questionable necessity; we have to cover ourselves. Not knowing how long this should go, might as well cover ourselves with style.
When it comes to effortless fashion, black always wins. It always easily matches with anything you wear. Choose the sleek black ones that can effectively cover your mouth and nose. For easier breathing, black face masks with silky fabric are a great choice.
Cowboy look
Season after season, the cowboy look keeps coming back. But perhaps, it never really phased out. Designers have always been fascinated by cowboy fashion ever since it became a hit in the 1950s. It was started by the debonair Hollywood cowboys and since then, has been in the fashion arena, becoming a micro-trend that constantly reappears.
So, how do you nail this yeehaw style? Take it lightly; you don't have to look like you're about to join a rodeo bull chase. The key pieces include jackets, shirts, boots, and accessories. For jackets, you can wear suede, denim, or the original cowboy signature jacket, the buckskin.
The shirt comes in before the jackets, preferably tucked in just as original cowboys originally do. Most importantly, the boots—they are not to be forgotten. Originally, it should have been pointed, heel stacked, and with a high shaft, but now it doesn't need to have a pointed toe.
Lastly, finish it off with the right accessories. A leather belt with custom rodeo belt buckles and a neckerchief can already complete your look.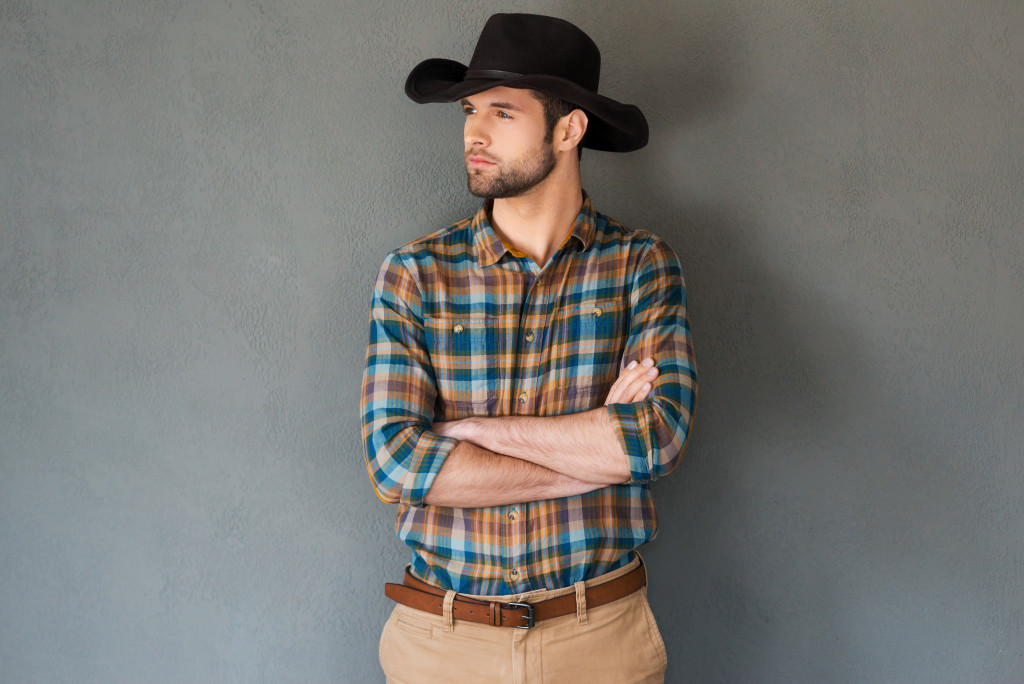 White knee-high boots
Brown, spiked-up-toed boots may be the signature statement of the cowboy look, but this one's different. White knee-high boots date back to the 1960s when gogo dancers hit it with such. Women can easily nail a classic yet chic look with these long white boots.
Even celebrities opt to elevate their outfit by finishing it with a pair of white knee-high boots. You may want to wear these boots with leggings, a roll neck, or a miniskirt or dress.
High-waisted pants
It turns out that high-waisted pants don't just look great and appeal to women, but designers also expect these pants to leap into men's top fashion trend this year and the next ones. But it's now showing up, with plenty of men observing that they look taller with high-waisted pants.
But this isn't surprising. Fitted waists and high-waisted pants have always been the rage since the 1950s, although it was more on the feminine side. The twist that's happening and about to invade men's closets is the rise of high-waisted pants specifically for men.
Oversized Jackets
These may do well for both men and women. What has come back to the trend again is the oversized shoulder pad boyfriend jackets. They were originally designed to fit men's usually broad shoulders but this year and maybe even for the next, women claim them as part of their wardrobe.
This is mainly because the jacket can cinch women's waits and make their legs look longer. Colors that really look good in this style include neutrals, powder blue, and charcoal. Wear underneath some leather shorts or leg trousers and you can already look effortlessly aesthetic and chic.
Statement sleeves
These statement sleeves are 1980s-inspired. They have sleeves designed with oversized ruffles, usually balloon and bell sleeves, all big-shouldered. The style, commonly sheer sleeves, can greatly add interesting visuals to the look without having to sacrifice comfort.
Bra tops
Talking about statement sheer sleeves which can pair with bra tops, the latter started to become a hit. Bra tops can do well alone, but for those who don't really like to show more skin, they can get creative with the trend. They can wear on top of the bra a sheer sleeve or blouse to keep up with the warm weather.
Is following fashion trends your thing? Then you might do well with these but without sacrificing your own fashion sense and comfort.