Whether you admit it or not, there's a romantic bone in you that's screaming to get out. You want to have that magical date night that you only see on rom-coms and Nicholas Sparks' novels. You want your feet to get swept off of the ground and into your lover's dreamy eyes. Whether you admit it or not, you've been waiting for your main character moment, where the whole world melts into the background as your favorite song plays along with the beat of your heart.
But who said you have to wait?
In this day and age, taking matters into your own hands is not only acceptable but also encouraged. No matter how whom you find attractive, what's important is to actively do what you can to get what you want. With these four important date night factors as your guide, you won't have to wait any longer to get the most romantic date you and your partner deserve.
Budget
Considering the expenses might be the opposite of being romantic for some, but there's nothing more alluring than a financially responsible partner.
Do not spend what you can't afford. Overspending shows immaturity. If you can't handle financial discipline for one night, how can you make your partner feel secure for the rest of the days?
Spending too much on superficial things can also lead to complacency. The mindset of just paying for things and services to make it romantic defeats the purpose of the date. Instead, plan the budget meticulously and adjust it with you are your partner's interests. Show your lover how much you care by carefully working around a budget that could make them happy, not just for one night.
Pro-tip: Choose the night's main event depending on your date's personality and work the budget around it. If you both enjoy the movies, then a theme of both your favorite genres could be the focus of the whole experience. And the main event could be a DIY cinema that you have prepared on a dimly lit rooftop.
Ambiance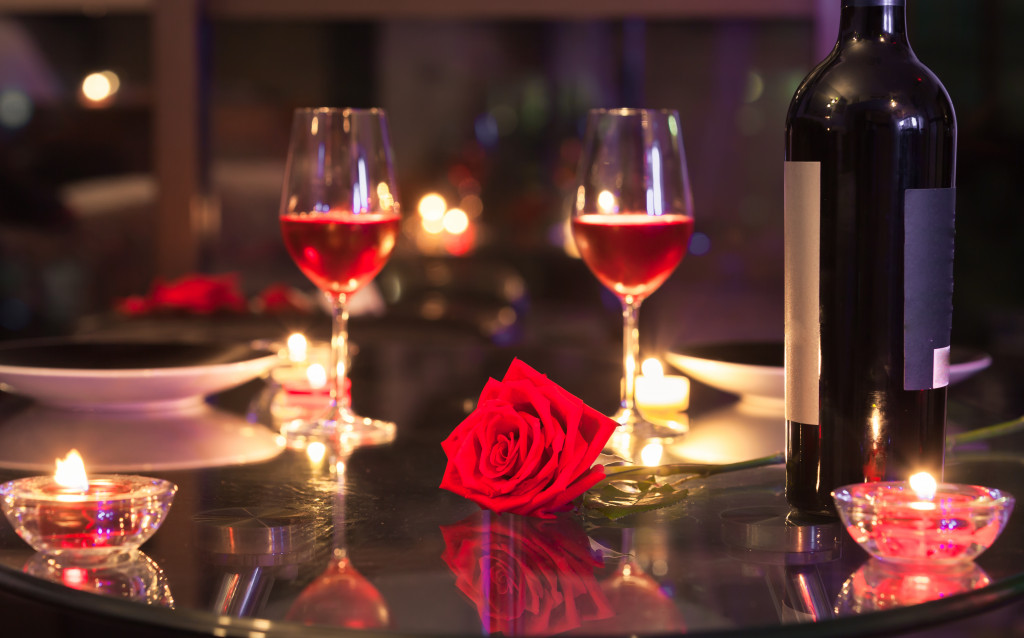 Speaking of dimly lit rooftops, the ambiance of your location sets the mood. The food can be good, but if the décor and the environment are not cutting it, then you'd probably not enjoy it. Imagine wanting to have a romantic night but not talking to each other because the restaurant plays loud music.
Look for restaurants that have invested in decorating their establishments through authentic furniture stores. Whatever their theme is, if they put that much effort in designing the place, then you know they'd be meticulous enough to work on the food and the ambiance.
Remember that the whole experience is not only reliant on the food you'd get to eat. The layout, design, and overall atmosphere of the place all help set the mood.
Pro-tip: Choose restaurants that have good reviews based on their service. Nothing ruins a night more than poor service.
Convenience
This should be simple and short. Schedule and location play important roles in achieving the most romantic night of your life. Make sure that the when and the where of your date are aligned with both of your most convenient times. Planning without thinking about both of your comfort levels would just be setting yourself up for failure. Make sure there will be nothing else on your mind except each other's smile.
No matter how romantic you plan it to be, ensure that it won't compromise your date's comfort. Genuine happiness can be easily achieved if you're both relaxed.
Pro-tip: Let go of your phone. The mood could easily be destroyed by constantly checking your phone. Focus on each other. Talk. Enjoy. Let the world vanish behind you.
Interest
Your date should revolve around the things that you like. Or at least the things that you want to try enjoying. Dinner dates are fun and all, but they're not that different from dinner meetings and regular supper. Make it a point to plan an activity that you will both enjoy.
Taking cooking classes together can help you establish better communication techniques while enjoying your favorite food. Going on sportier adventures like laser tag, paintball competitions, and mountain hikes can also help you become each other's heroes. Plus, nothing glues a couple together more than trampling on other couples. You can also focus on your talents and go dancing in clubs or enjoy karaoke nights. Even getting a couple's massage and a spa getaway can also do the trick.
The main idea is to do either something you love doing or something you've never done before.
Pro-tip: Make sure you talk about it. As fun as surprises can be, making sure you're both on the same page is vital to your relationship. You don't want to spend the entire day with mister or miss frowny face sitting next to you.
Remember to consider yourself as much as you consider your partner. Giving your lover the best time of their life is an amazing feat. But it shouldn't be done at your expense. Your date would only become more romantic if you're also enjoying it.